HCMC - While many businesses in HCMC are facing severe shortages of human resources as they have begun recovering their production after several months of Covid-19 restrictions, large numbers of migrant workers have been rushing back to their hometowns.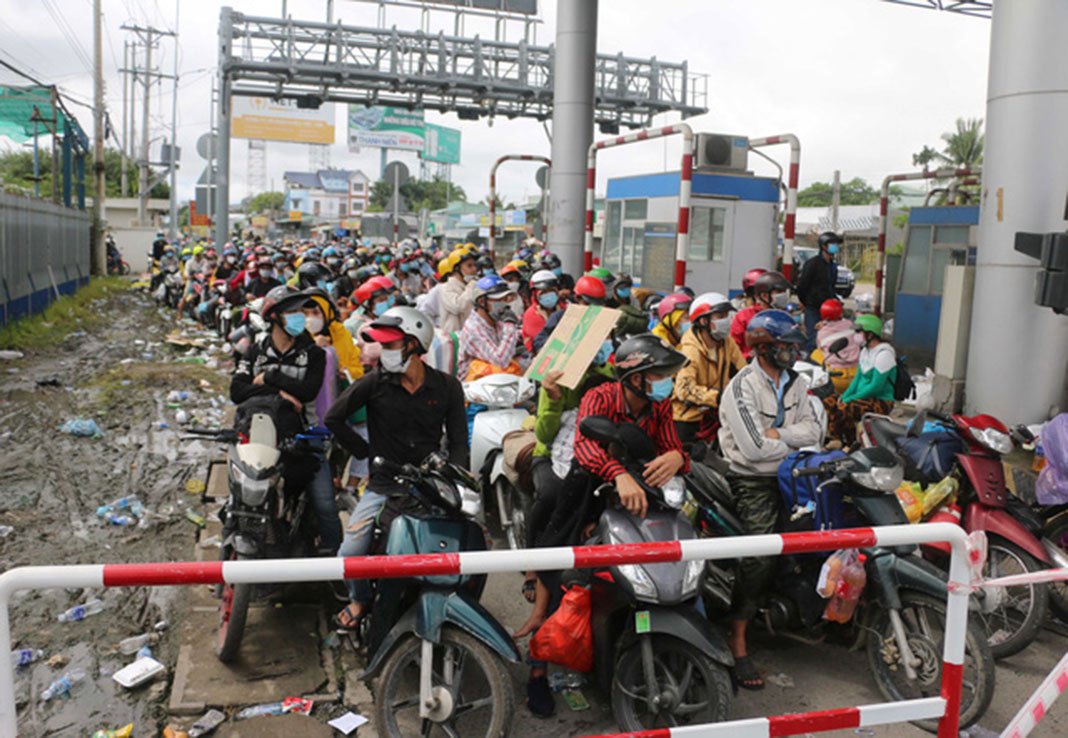 A throng of people is seen at a Covid-19 checkpoint in An Giang Province while they are on the way back home in the Mekong Delta – PHOTO: VNA
Senior lieutenant colonel Tran Thanh Giang from the HCMC Police Department said as of October 3, some 34,000 people had left HCMC for other southern provinces, especially in the Mekong Delta, the local media reported.
On September 30 the city government issued Directive 18 easing mobility restrictions and gradually reopening the economy while remaining vigilant against the development of the pandemic.
From the morning of October 2 to the afternoon of October 4, the HCMC Department of Transport received over 6,900 requests from HCMC residents to take back to the city their relatives and children now stranded in other provinces, said deputy director of the department Bui Hoa An. The department has processed nearly 2,600 of these requests.
The municipal government has written to the governments of neighboring provinces asking them to facilitate the return of HCMC residents who are stranded in these provinces due to mobility restrictions. However, their travel through checkpoints remains difficult, An said, adding that the department would seek ways to handle the residents' demands.
As for the demand for labor, Nguyen Van Lam, deputy director of the municipal Department of Labor, Invalids and Social Affairs, cited a survey of the city's Human Resources Forecast and Labor Market Information Center as saying that in the last quarter, over 42,000 workers sought jobs while businesses were in need of 43,600-56,800 employees.
Enterprises should bring back their employees who have returned to their hometowns and meet the safety criteria.
Another source of labor is the 127 licensed career centers in HCMC, which can introduce candidates to enterprises.
In addition, colleges and vocational schools can also introduce their graduates to enterprises.
These three solutions can help meet the enterprises' demand for labor when they resume their operations, Lam said.
According to Pham Duc Hai, deputy head of the municipal anti-Covid steering committee, before October 1, industrial and export processing zones in HCMC had some 288,000 workers, including 70,000 people who worked under the stay-at-work or one-route-two-destination modes.
Since October 1, the figure has fallen to 45,000, and 90,000 other workers have registered to return to work.
Thus, some 135,000 people are working in industrial and export processing zones, accounting for 46% of the total number of laborers. Understaffed factories are rushing to conduct recruitment plans.
Thanh Ha