HCMC - The HCMC government is providing timely support for businesses, who are facing numerous difficulties after resuming operations following the relaxation of Covid-19 restrictions.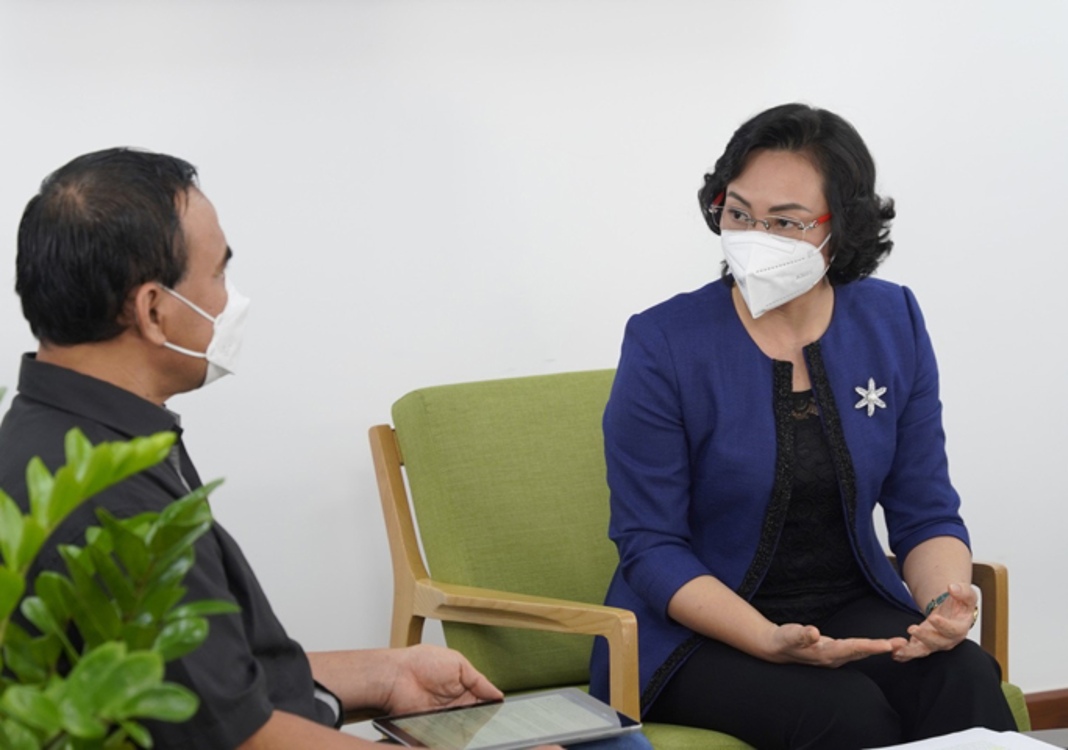 HCMC vice chairwoman Phan Thi Thang (R) speaks at the meeting - PHOTO: COURTESY OF ORGANIZER
Addressing a meeting on October 8, HCMC vice chairwoman Phan Thi Thang said when the economy is fully reopened, the city would prioritize support for manufacturing businesses operating at industrial parks and export processing zones, as well as businesses active in the retail and distribution sectors.
According to Thang, after the city eased social distancing measures and travel restrictions on October 1, a large number of businesses operating at industrial parks, export processing zones and hi-tech parks resumed their operations as 70-80% of their employees had been fully vaccinated against Covid-19.
As of October 6, over 970 businesses at industrial parks and export processing zones across the city with some 164,000 workers had reopened.
At hi-tech parks, nearly 90 businesses with more than 27,000 workers have resumed operations as of October 6.
According to data of the HCMC Department of Labor, Invalids and Social Affairs, 100% of self-employed workers in the city, estimated at some 285,000 people, have received financial support from the local government.
The Federation of Labor announced on October 7 that it has spent over VND1.39 trillion as relief aid for 2.4 million trade union members, workers, civil servants, laborers and their children affected by the Covid-19 pandemic in the city.
In terms of financial support for businesses affected by the Covid-19 pandemic, the city has worked with the State Bank of Vietnam – HCMC Branch to organize programs that connect businesses, production facilities and business households with banks, especially banks for social policies, associations and organizations to increase the businesses' access to loans with preferable interest rates.
Besides support from the municipal government, the State Bank of Vietnam issued Circular No. 14 in early September, allowing financial institutions to extend debt rescheduling for customers for a further six months.
The city has also helped businesses seek medical partners to provide healthcare for their employees, especially those required to stay at the factories during the social distancing period, and ensure compliance with anti-coronavirus measures.
"When all businesses, organizations and individuals strictly comply with anti-pandemic measures, the pandemic will be fought off soon and the economy will recover faster," Thang said.
Regarding the reopening of inter-provincial passenger transport services, Thang said the city's Department of Transport expected to resume several inter-provincial routes from November 1, depending on the Covid-19 situation and negotiations between the city and other provinces.
Besides, the city and other provinces are discussing plans to resume domestic tourism. The local authorities are also working with tour operators to improve the quality and safety of some tours to Cu Chi and Can Gio districts that have recently resumed.
Thang shared that the Ministry of Finance is completing a draft decree on assistance policies for businesses and individuals affected by the pandemic.
Accordingly, the ministry proposed continuing to cut corporate income tax by 30% for businesses and extending the payment deadlines of value added tax, corporate income tax, personal income tax and land rentals in 2021.
Thang said the city is keeping a close eye on the Covid-19 situation and would reopen more sectors after October 15 if the situation improves.
Minh Tuan