HCMC – Embraer SA, Brazil's leading aerospace company, is looking to expand its business operations in Vietnam following an official meeting between Vietnamese Prime Minister Pham Minh Chinh and Embraer's President and CEO Francisco Gomes Neto on September 23.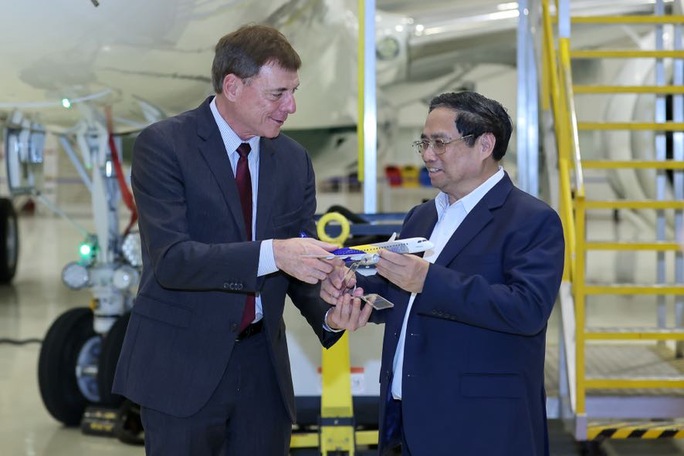 Prime Minister Pham Chinh Chinh (R) and Embraer's President and CEO Francisco Gomes Neto – PHOTO: VGP
During the meeting, President and CEO Neto emphasized the potential for Embraer's aircraft in Vietnam, especially for short-haul flights with moderate passenger counts. He expressed interest in gaining further support from the Vietnamese Government as the company explores new opportunities in the Vietnamese market.
PM Chinh acknowledged Embraer's strong track record in safety and environmental sustainability. He suggested that Embraer's new generation of commercial aircraft could help Vietnamese airlines expand while maintaining operational efficiency and safety.
The Prime Minister also encouraged Embraer to invest in Vietnam's aviation ecosystem. He proposed Embraer team up with local airlines and participate in workforce development and offer technology solutions to enhance the country's aviation industry.
Founded in 1969, Embraer is the third largest commercial aircraft manufacturer in the world after Boeing and Airbus.
The company specializes in producing aircraft with fewer than 130 seats and operates in 80 countries. In 2022, Embraer reported revenue of US$4.6 billion and profit of US$540 million. The company has already delivered five E190 aircraft to Vietnam's Bamboo Airways.
The Saigon Times