The persistent Covid-19 pandemic and the stringent measures imposed to combat it have resulted in supply chain disruptions that prompt many enterprises to shift their orders and even part of their production capacity in Vietnam to other countries.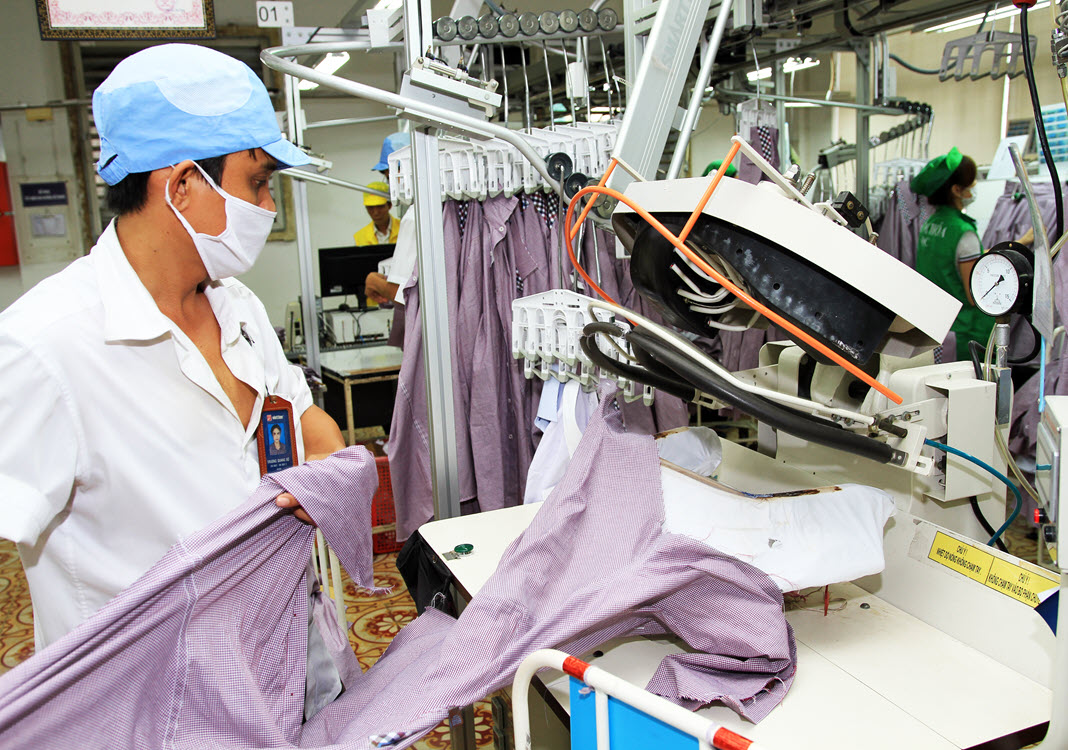 Some retailers still hope that the situation will improve soon. Many factories in northern Vietnam will resume operation in October and expects output to reach full capacity by the end of this year - PHOTO: THANH HOA
According to CNBC, protracted anti-pandemic measures in Vietnam have adversely affected the production capabilities and revenues of global brands. As the year-end shopping season draws near, firms reliant on footwear and apparel production in Vietnam have arguably struggled the most.
BTIG, a Wall Street research firm, has downgraded its forecast for Nike share prices as the latter faces severe problems in its production chain. BTIG estimates that Nike made about 350 million pairs of sport shoes in Vietnam last year. This company predicts that up to 160 million pairs of Nike shoes will not be made in Vietnam this year due to social distancing.
Adidas, a major rival of Nike, says that production delays in Vietnam have dragged down its revenue by US$600 million this year.
In late August, CEO Richard Hayne of Urban Outfitters, a fashion retailer, says that its main concern pertains to orders, especially dresses and pants, placed in Vietnam. He says that the firm places many orders in Vietnam and is trying to get them ready.
Besides, an analysis by BTIG shows that retailers with the greatest degree of dependence on production in Vietnam such as Deckers Outdoor (which manages Ugg and Hoka); Capri Holdings (which manages Michael Kors); Tapestry (which manages Coach); Columbia Sportwear; Under Armour and Lululemon will face numerous detrimental consequences.
Problems also plague interior design firms. The leaders of Hooker Furniture estimate that its Home Meridian International brand will see its sales plummet by 30% this quarter as factories halt operations. CFO Paul Heckfeldt says that factories' shutdown will pose many challenges.
Ashley Furniture and Theodore Alexander, which offer workers on-site accommodation, have difficulty operating at full throttle. After ceasing operations for one week due to the pandemic, Theodore Alexander has just 40% of its staff working at its factory now. Ed Teplitz, president of Theodore Alexander – North America, says that despite its best effort, it is operating at only 30% of its normal capacity. Besides its restricted workforce, it also encounters problems with the transport of raw materials.
Production shift to China
Supply chain disruptions in Vietnam have caused many firms to look for alternatives. EuroCham estimates that 18% of its members have shifted some production to other countries to protect their supply chains while another 16% have considered similar moves although none has left Vietnam.
On August 31, Chico's FAS, a fashion retailer based in the United States, says that it has plans to leave Vietnam. Molly Langenstein, its CEO, says that supply chain woes in the second half may hamper revenue and profit as transport costs and duration increase and products are delivered late. Chico's has shifted 9% of its total output from Vietnam to other countries.
China benefits the most from this trend. In recent years, to avoid the U.S.-China trade war and make use of cheap labor, many multinationals have shifted part of their production chains out of China and towards Southeast Asian countries, including Vietnam.
This process has been rapidly reversed. On September 9, Charles Roberson, CEO of the protective clothing producer Lakeland Industries, says that it has hired new managing directors to shift production from Vietnam to China within a few weeks.
Roger Rawlins, CEO of footwear producer Designer Brands, says that a fellow entrepreneur has had to abandon the supply chain developed over the past six years within six days. He says the way firms put in so much effort to shift production away from China, only to return there, resembles a roller coaster ride.
The pandemic has impeded the production plans of technology giants such as Apple, Google, Amazon and their suppliers. Smartphones Pixel 6 by Google and the latest Airpod products by Apple will be made in China instead of Vietnam. Amazon's production of smart doorbells, security cameras and speakers in northern Vietnam has also faced delays since May due to the pandemic and stringent lockdown measures.
Many firms do not want to return to China since they have had to overcome formidable logistics barriers to shift to Vietnam during the pandemic. They include workforce recruitment, equipment shifts and new transport strategies to overcome bottlenecks. Moving back to China will be costly and time-consuming. It is also worth remembering the tariffs that the U.S. imposes on products from China.
However, such a return, while financially daunting, is the least detrimental option to boost production before the year-end shopping season. Shawn Nelson, CEO of interior design firm LoveSac, says that his company has shifted orders from Vietnam to China. While aware of tariff issues, his firm must prioritize order completion, which matters to both the company and its customers. It has decided to do away with discounts and promotions to offset tariffs.
During the pandemic, China emerges as a beacon of stability. Willy Shih, who teaches management in Harvard, says that some companies have shifted back to China since last year, adding that the country has a reliable production capability.
To minimize risks, some companies have adopted a more cautious approach by scattering its production regionwide. Jeremy Hoff, CEO of Hooker Furniture, says that it has diversified beyond Vietnam and entered Thailand while moving part of its production to China when necessary.
Eclat Textile is also trying to set up smaller regional production hubs that can swiftly cater to customers. The supplier of Nike and Lululemon Athletica left China in 2016 to expand production in Vietnam. However, Hung Cheng-hai, its CEO, says that it will not consider increasing its capacity in Vietnam for at least three years. Instead, it will pour money into new facilities in Southeast Asian countries such as Indonesia or Cambodia, with US$80 million set aside for 120 regional production lines. The official locations will be determined in late 2021.
Many firms are still monitoring the Covid-19 situation in Vietnam. Challenges are expected to rise as the year-end holiday season draws near. Camilo Lyon, a BTIG analyst, says that production in Vietnam may not be severely impeded in the third quarter, but the impacts will be clear in the fourth quarter and even the first half of 2022. Many brands will proactively slash orders in anticipation of falling capacity and production bottlenecks as factories reopen after the social distancing period.
According to BTIG, products that used to take three months to produce in Asia now require 12 more weeks. Camilo Lyon says that it may take from five to six months for factories to resume their normal capacity after the social distancing period. This includes the four or five weeks it takes to import materials and another eight weeks to settle existing orders. BTIG warns that factories in Vietnam may face a labor crunch after social distancing measures are eased.
However, some retailers still hope that the situation will improve soon. Lululemon predicts that factories in Vietnam will gradually reopen from mid-September. RH, a high-end interior design retailer, says that factories in northern Vietnam will resume operation in October and expects output to reach full capacity by the end of this year. Due to disruptions, as well as greater transport costs and duration, RH has to postpone the launch of its contemporary interior design catalogue to spring 2022.
Economists contend that even as growth figures are trimmed, Vietnam's transformation into a foreign investment magnet will remain. HSBC has recently slashed its growth forecast for Vietnam in 2021 from 6.1% to 5.1%, but its economist Yun Liu says that despite immediate challenges, Vietnam's recovery prospects remain bright by virtue of strong fundamentals.
Annabelle Hsu, an IDC analyst, shares with Nikkei Asia that the challenges facing Vietnam, which has emerged as an alternative to China, are probably temporary. "We noticed there are some impacts on production lines and a slowdown in shifting of production capacity due to the Covid-19 resurgence and government measures. However, we don't think the Vietnamese Government will adopt such strict measures for very long, otherwise it will affect its own economy and its rising manufacturing prowess," Hsu says.
Hong Ngan