HCMC – The Ministry of Health today, September 22, reported 11,527 fresh Covid-19 cases, all but two being domestic infections in 35 localities, down 162 cases day-on-day, while also confirming fatalities.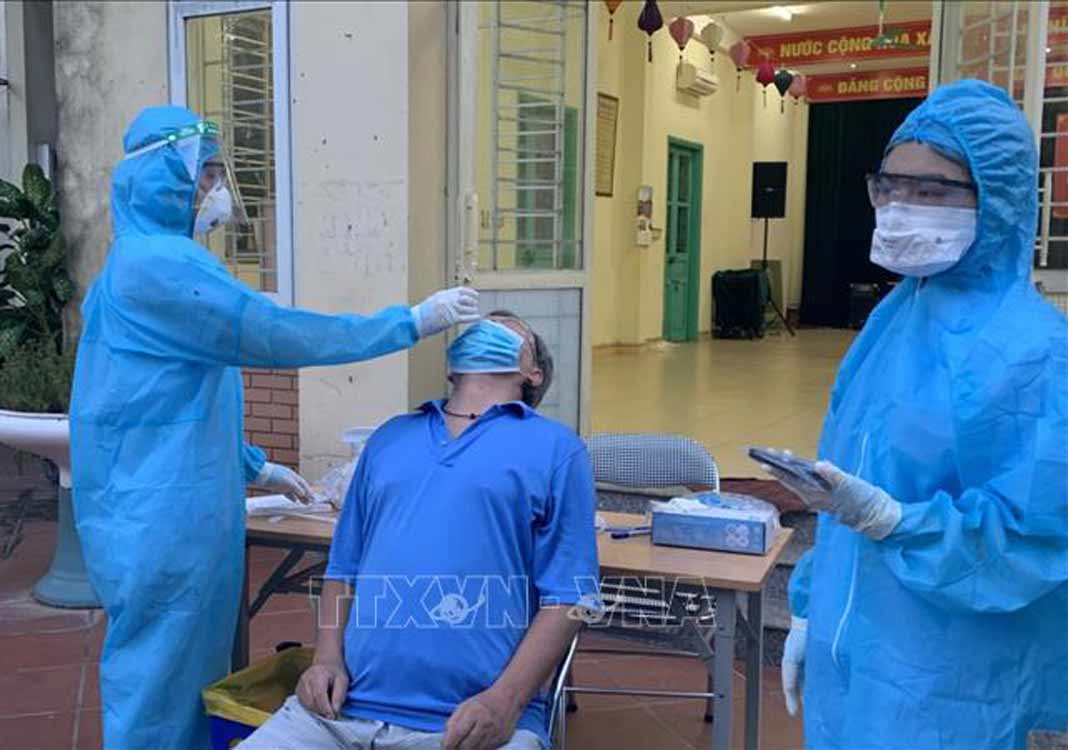 A man is swabbed for Covid-19 testing. The Ministry of Health has reported 11,527 new Covid-19 cases and 236 deaths - PHOTO: VNA
HCMC accounted for nearly a half of the locally-infected cases, at 5,435, down 1,086 cases over yesterday, sending the city's caseload to 353,655 cases in the current fourth Covid-19 wave. Binh Duong followed closely behind with 4,179 new cases, up 570 cases, while Dong Nai had 930 cases, Long An 191 cases, An Giang 186 cases and Kien Giang 137 cases.
Other localities saw less than 100 infections each.
The latest cases have raised the country's Covid-19 count in the current wave to 714,497, including 482,083 patients who have recovered from the disease. Today, 11,919 patients were discharged from hospitals.
Meanwhile, 236 Covid-19 deaths were reported, raising the country's total Covid-19 fatalities to 17,781. Of the new cases, 181 were reported in HCMC, 37 in Binh Duong, three each in Tien Giang, Binh Thuan and Long An, two each in Dong Nai and Can Tho, and one each in Dak Nong, An Giang, Danang, Nghe An and Ba Ria-Vung Tau.
Answering questions about the news that the Ministry of Health has had plans to withdraw its forces from HCMC, Deputy Minister of Health Nguyen Truong Son said that the ministry would continue supporting HCMC's fight against the pandemic, specifically in a mass testing drive until September 30.
He said the forces would be withdrawn gradually based on the city's pandemic situation.
More than 17,000 medical workers from the northern and central region have been sent to the south. The Ministry of Health has also provided southern localities with a large volume of medical equipment, ventilators and medicines.
Today, some 300 doctors, nurses and technicians from Quang Ninh Province and the 108 Military Central Hospital and the National Hospital of Obstetrics and Gynecology came to HCMC to lend a helping hand.
According to the deputy minister, the fight against the pandemic in the city has showed positive signs. The numbers of new Covid-19 cases among the total samples taken and Covid-19 deaths have fallen. More patients can access medical services earlier thanks to pop-up healthcare stations.
In related news, the HCMC Department of Health has asked anti-Covid steering committees of Thu Duc City and other districts to establish teams to take care of Covid-19 patients who are being treated at home.
Besides supporting pop-up healthcare stations to take care of patients, these teams will support the Covid-19 testing and vaccination.
Each team will be responsible for 10-20 Covid-19 cases. Therefore, Thu Duc City and districts should base on the number of Covid-19 cases in their areas to establish enough teams.
Each team will have at least three members who have been fully vaccinated against Covid-19.
Medical centers of Thu Duc City and districts must provide these teams with medical equipment, medicines and guidance.
Thanh Hà