HCMC - The United States' Quantum Group, during a meeting with State President Nguyen Xuan Phuc in New York on September 22, said it was planning to develop a Covid-19 vaccine production facility in Vietnam.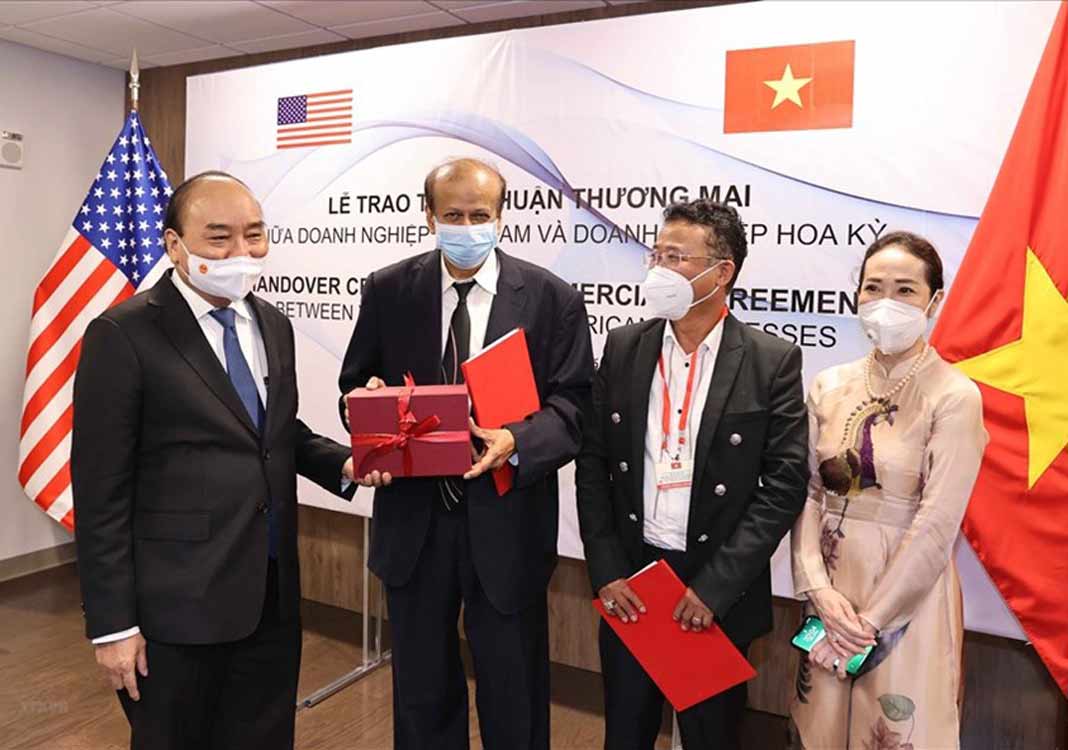 Vietnam's State President Nguyen Xuan Phuc (L) and Quantum CEO Arun Savkur (2nd L) pose for a photo - PHOTO: VNA
On the sidelines of the United Nations General Assembly's 76th session, State President Phuc met representatives of Quantum, saying Vietnam is prioritizing cooperation in Covid vaccine production as the pandemic is raging in the country, the local media reported.
Vaccinations will help the country prevent supply chain disruptions and restart the operations of businesses, including those with U.S. investment.
He expected Quantum, as a capital contributor of Pfizer, would call for the vaccine producer to continue Covid-19 vaccine supply for Vietnam.
At the meeting, Quantum CEO Arun Savkur said the group wanted to cooperate with its Vietnamese partners to develop a healthcare system combining Western hi-tech and Eastern traditional medicine.
Quantum committed to contributing to Vietnam's development, initially with projects worth US$20-30 billion in total.
It also planned to develop the Long Son LNG-fired power plant project worth some US$5 billion and the Long Son port project in Ba Ria-Vung Tau Province.
Quantum further sought to invest in the logistics sector in Ba Ria-Vung Tau and the northern region and build railways connecting Ba Ria-Vung Tau with Dong Nai, Binh Duong and HCMC.
In addition, the group intended to develop other infrastructure facilities in Vietnam, such as expressways, bridges and industrial properties, and invest in the telecom, finance, securities and renewable energy sectors in Vietnam.
Savkur expected the Vietnamese Government to support its projects in the country. It believed that its important and large-scale projects would help boost bilateral economic relations between Vietnam and the United States and contribute to Vietnam's socioeconomic development.
State President Phuc spoke highly of Quantum's potential and achievements worldwide, saying that its projects planned to be executed in Vietnam were long-term and strategic ones, especially the hi-tech and infrastructure projects. He hoped the group would promote biotechnology research projects to care for and protect public health.
The State president also asked the Ministries of Planning and Investment, Industry and Trade, and Construction to assist Quantum to carry out its projects in Vietnam.
Vietnamese ministries, agencies and localities will create favorable conditions in terms of administrative procedures and an investment environment for Quantum to soon launch its investment projects.
State President Phuc and Quantum CEO Savkur also witnessed the signing of a cooperation agreement between Quantum and a joint venture of Kinhbac City Development Holding Corporation and the Saigon Telecom Technology Joint Stock Company.
Thanh Hà